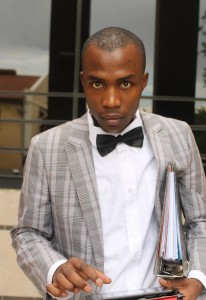 Mr. Erastus Hangula is currently working on a Master of science from the University of Namibia. He hold a BSc Hon. Degree in Computer Science major and Information Technology minor from the University of Namibia. At 2002-2004 he was chosen as the best of all times and he obtained awards for Best Mathematics, Physical science, Best Accounting student and best history student at JSC level. Best JSC 2004 Achiever award. He was also awarded the Superior Academic Performer award, which is principal's Award in 2003, among his 2003 award he was also awarded Best Physical Science, Best Mathematics student, Best Accounting Student and he was than awarded Top student award in 2004 JSC end of the year examination's. As of 2006 Mr Erastus Hangula obtained a Director of Education's award for outstanding achiever in IGCSE Physical science Cambridge examination.
As of 2016, this year, Mr Erastus Hangula obtained a Certificate In Construction Carpentry from Kayec Vocational Training Center.
As of 2014-2015, Mr Erastus Hangula was awarded an award by the University of Namibia for both :
Certificate for Outstanding Performance in Data Communication, University of Namibia, faculty of cience Master of Science award (2014).
Certificate off Attendance for Web Development Master of Science award (2014).
As of 2008-2009, Mr Erastus Hangula was awarded an award by the University of Namibia for both the Best Data Warehousing and Best Data Mining Student of 2010 academic year, when he was in his 3rd year of his career at the University of Namibia, Mr Erastus was selected as system administrator and programmer for the POS (Point Of Sale system).
As a part of His Final year project in 2010; He researched and developed a prototype of University of Namibia SNV (Secure Net Voting) System, system that allow student to vote online and manage user authentication, which was adopted by the university and currently used for University's online elctions. He has more than 5 years experiences in computer science. During his professional life he developed, designed, validated, Tested, configured and install several ICT systems.For example, he developed a SLA (Service Level Agreement Clients) stock control process for Gijima AST clients; he was also given the responsibility to develop the FNB (First National Bank) printer repair Process by Gijima AST.
He worked as a Network administrator at Khomas Regional Council under the management of Gijima AST. He set up various labs and configured the wireless networks for example he set up a wireless lab, configure it and connect the systems to the domain through wireless at the Polytechnic of Namibia. Under the management of Gijima AST he was assigned as consultant for ICT infrastructures at the Education Offices at Frans Indongo Building, Meat board of Namibia and Agronomic board of Namibia.
He's involved in project for the development and distribution of the e-Health system (IHCIMS) in Namibia, for the entire Country. He was one of the NIT Project Team members and a supervisor of some NIT at NAVAYUGA InfoTech (www.navayugainfotech.com), and He was also the MS enterprises and NIT web application End user trainee and member of system Testing team for the e-health system in Namibia.
Download a Full CV here