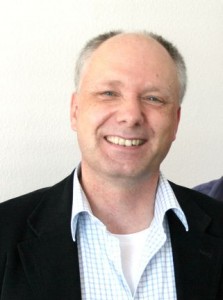 My name is Manfred Meyer, I am 51 years old and since 2002 I am a Professor for Business Computing at the Westfälische Hochschule (Westphalian University of Applied Siences, W-HS in short) in Bocholt. Prior to that, I spent more than 5 years at the German Research Centre for Artificial Intelligence (DFKI), then joined sd&m, now Capgemini,  as an IT-Consultant before I became Professor at Schmalkalden University of Applied Sciences in 1997. I hold an M.Sc. and Ph.D. both in Computer Science from Kaiserslautern University.
Classes I am or have been teaching include Introduction to Programming in Java, Algorithms and Data Structures, IT Project Management, Software Engineering, IT Consulting,  Internet Technologies, Online Marketing and Internet Business Applications. Some of these courses I have also been teaching at several other universities in Germany and overseas, i.e. at the University of Calgary (Canada), Massey University (New Zealand), Instituto Tecnológico y de Estudios Superiores de Monterrey (Mexico) as well as the Polytechnic of Namibia.
My research interests include logic programming and constraint processing, semantic web technologies, internet business models and online advertising. From 2009 to 2012 I was managing the EU-funded research project AdMotional.
Since 2006 I am regularly visiting Namibia (now for the eleventh time), established a formal cooperation with the Polytechnic of Namibia in 2007, was teaching various classes there (from Object Oriented Programming to Online Marketing and Advanced Project Management), supervising Masters students, doing consultancy for Polytechnic management and the Namibian Business Innovation Centre (NBIC) and also giving public courses on various topics through CED and NBIC.
In 2013, I met Dr. Kauna Mufeti when we were both co-organizing the eLearning Africa Workshop, especially a track on Entrepreneurship and Innovation, for the DAAD in conjunction with the eLearning Africa Conference being held at Safari Hotel in Windhoek. Shortly after that we decided to also establish a formal cooperation between UNAM and W-HS which was signed last year. During my visits to UNAM in 2013 and 2014 I gave public lectures on some current topics while the current ISE project forms the first major activity within this still young cooperation.
On a personal note, I am living in the beautiful city of Düsseldorf, the capital of the largest state in Germany (Northrine-Westphalia) and home to the soccer team of Fortuna Düsseldorf which hopefully will still make it this season to the Premier League and beat Bayern Munich next season…

My free time I spend with exercising the privileges of my private pilot licence, hiking, skiing and traveling.
Finally, I am now very much excited to meet you all on Friday afternoon and see our project taking off the ground. I am looking forward very much to an inspiring week at UNAM, enjoying the Namibian hospitality and culture, to an interesting and challenging project with much work but no less fun and new experiences for all of us.
So… see you on Friday!