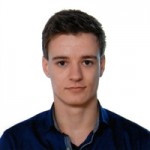 Mr. Dennis Miller is a 25 years old software engineer studying at the Westphalian University of Applied Sciences in Bocholt, Germany. He is part of this excellent multicultural team developing an awesome product for the University of Namibia within the scope of the course International Software Engineering.
Mr. Miller is currently working on a Master of Science degree in IT with focus on distributed systems at the Westphalian University of Applied Sciences in Bocholt. He holds a Bachelor of Science degree in information technology with focus on applied computer science from the Westphalian University. His Bachelor thesis about a predictive maintenance system, he wrote in the US in cooperation with Ipsen Inc., a global industrial furnace manufacturer.
Since Mr. Miller was part of a dual studies program at the Westphalian University and the IHK (Chamber of Industry and Commerce), he also holds a degree as Electronics Technician for Automation Technology in the field of manufacturing automation.
In addition to several years of experience as a .NET software developer for distributed client/server systems at Ipsen International, Mr. Miller was an important part of various project teams during his studies. For instance, he has worked on projects as indoor navigation using wireless LAN and NFC, as automation of a jukebox and as measurement and evaluation of health values by a smartphone app and various sensors as basics for some more comprehensive studies.